Dive into the Unique Ecosystem of the Everglades
---
For nature enthusiasts, the Miami Everglades offer a unique ecosystem of flora and fauna you won't see all in one place anywhere else. Whether you love seeing different varieties of trees and flowers or prefer bird watching, an Everglades tour offers the opportunity to see many types of plants and animals. With Miami Everglades Connection, your tour guides are just as interested in the River of Grass as they are in educating everyone who visits on the history and impact of the Florida Everglades.
Begin your adventure today!
Find Unique Plant Life
---
Whether you're interested in different types of trees, flowers, or vines, the Florida Everglades will give you a variety to look at. When you take an airboat Everglades tour, have your guides point out all the different species and how they came to thrive in their current ecosystem. You'll also hear all about conservation efforts to preserve the Everglades.
Cypress Trees
The cypress may be one of the first images that comes to mind when people think of the swampy ecosystem of the Miami Everglades. There are actually two varieties you may see: the bald cypress and pond cypress. In the 1900s, these trees were harvested to make shingles, siding, and fence posts because of their durability. Since then, they have re-grown and you will still see them throughout the Everglades.

Shrubs and Ground-Cover
Around the edges of cypress swamps, you'll find several varieties of flowers in the form of shrubs and ground-cover. From the alligator to the meadow beauty, there are several types of flowers you'll see during your tour. These will typically grow on the edges of the swamp where they do not have to grow on cypress trees to be able to grow outside of the water.
A Variety of Ferns, Vines, and Moss
Epiphytes are a variety of plants that grow on other plants without harming them. There are a lot of these plants in the Everglades because they grow on the cypress trees and are able to thrive above the water. Within this category, you may see orchids, air plants, and Spanish moss as your airboat cruises through the River of Grass.
Witness Florida Wildlife
---
Most animal life you'll see in the Everglades will be a reptile or amphibian, since aquatic life is best suited to the environment. However, you'll also find a variety of wading birds along your tour because they're able to feed on small freshwater fish in a relatively safe environment.
Reptiles and Amphibians
Most well-known of the animals you may see on a tour of the Miami Everglades is the American alligator. There are also many species of frogs and snakes, including bull frogs, leopard frogs, eastern cottonmouth and brown water snakes. Plus, keep an eye out for Florida soft shell and snapping turtles. Many of them live in cypress domes during the dry season because they need the moisture found there.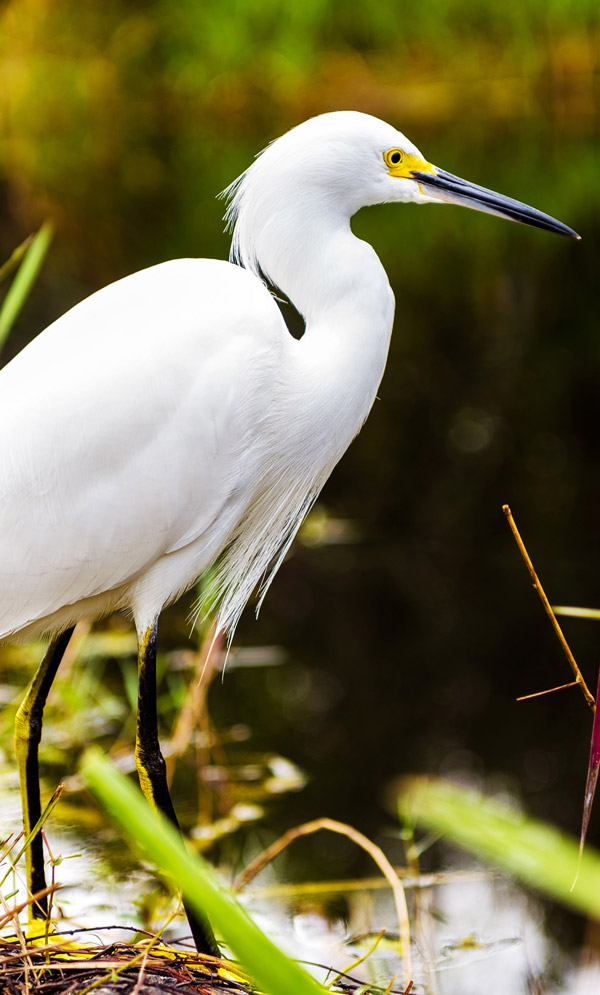 Fish and Other Aquatic Creatures
While your airboat cruises through the Everglades, you may also spy several species of fish who have adapted to survive in the changeable environment of the Florida Everglades. In particular, the marsh killifish survives the changing water levels by laying eggs in the mud before all the adult fish die off during the dry season. You may also catch glimpses of flagfish, mosquitofish, and golden topminnows.
Birds
The Florida Everglades are home to many threatened and endangered species of birds that you won't find anywhere else in the world. The wood stork is only found in the Everglades, where it eats the freshwater fish and builds nests in the trees. You may also see hawks, herons, and even bald eagles while on your tour.
Show Up Prepared
---
There are a few things you may want to have on hand for your sunset airboat tour, depending on your interests and preferences. Think about your comfort as well as what you'd like to do on the tour and how you'd like to remember it.
Bring Sunscreen or a Hat
The first part of your Everglades tour will be during the day, though it will be later in the afternoon. Still, if you're prone to getting sunburns, it's a good idea to be prepared by bringing sunscreen. You may prefer a hat just to shield your face. There is no cover on the airboat, so it's better to be safe than sorry when it comes to your comfort, whether it's sunscreen, a hat, or just a pair of sunglasses.
Don't Forget Bug Repellent
The Everglades are known for their mosquitos, so prepare accordingly. It's recommended that you apply bug repellent before starting your tour, no matter the time of day. Don't let the insects get in the way of your enjoyment while touring the River of Grass.
Bring Your Camera — and Binoculars
Think about your interests going into your tour. Do you enjoy birdwatching or being able to get a better look at wildlife from a distance? If so, bring your binoculars and mention your interest to your guides so they can point out birds and wildlife as they're spotted on the tour. Your guides are Everglades enthusiasts who know a lot about the flora and fauna there, as well as being dedicated to their conservation. And if you enjoy taking pictures while you're there to help remember later, be sure to bring your camera!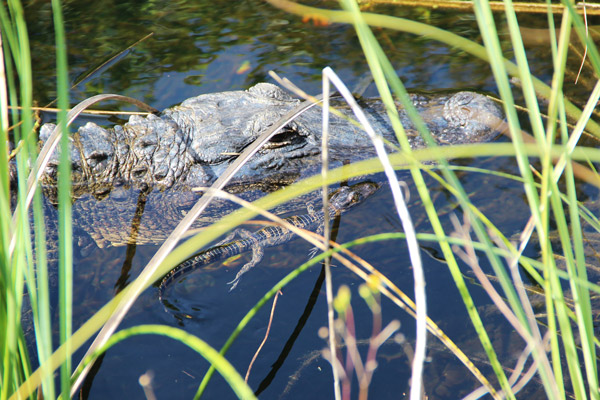 Learn About the Everglades Ecosystem & Conservation from Locals
---
Make your Miami vacation about more than just hitting the tourist spots. Preservation of the Miami Everglades is essential for the wildlife and plant life that thrives there, as well as being beneficial for local residents. 
Your guides with Miami Everglades Connection are dedicated to the cause of Everglades conservation and value sharing their knowledge. You can expect to leave your airboat tour having seen the Everglades for yourself and also having a greater understanding of why it is such a unique and important part of Florida. We are always available to answer any questions before booking or to help with booking a private excursion, such as a sunset everglades tour.
Have you taken a tour with us? Tell us how it went!
BOOK YOUR MIAMI EVERGLADES AIRBOAT TOURS