Creating a Unique Experience
---
No matter what, you're in for an experience you won't soon forget when you decide to add an Everglades airboat tour to your Miami vacation. The Florida Everglades are an important part of the culture in southern Florida, so making a point to take an airboat tour will add a whole new aspect to your vacation. It can be tough to choose between different tour companies and types of tours, but Miami Everglades Connection's airboat tours are top of the line. Both semi-private and private boat tours offer a great way to learn about the ecosystem.
Begin your adventure today!
Private or Shared — Our Everglades Tours are All Unique
---
All of our tours offer a ton of knowledge about the flora and fauna within the Miami Everglades and you'll be able to see it all up close. Whether you're interested in seeing alligators or bird watching, you'll have the opportunity to see it all for yourself. Each tour offers a unique experience, so no matter who you go with or how many times you go, you'll still be able to see and learn new things.
Whether you choose a semi-private or private airboat tour, you'll learn a lot about your surroundings over one to three hours. Our guides are experienced airboat drivers and tour guides — as well as being dedicated to the preservation of the Everglades' unique ecosystem. Ask questions, look at plants and wildlife, and learn about the impact of the Miami Everglades on the people who live in the surrounding areas. It truly is an experience you'll never forget.

Create a Personalized Experience with Your Own Group
There's no doubt our private Everglades tours are a great option for families or groups of friends. While all of our airboat tours are fun and educational, booking a private tour allows for a totally personalized and unique experience for everyone in your group. You'll get one on one time with our guides and you can tailor the experience to your own interests while on your Everglades tour.
Celebrate a Special Occasion
If you're in Miami for a birthday, anniversary, or any other special occasion, booking a private airboat tour of the Everglades can be a great way to celebrate. Have the airboat to yourselves and enjoy the scenery while your guide speeds you through the River of Grass. Especially if the guest of honor is a fan of wildlife, make this celebration one they won't forget. They won't have an experience like this anywhere else and making it a private tour will keep it intimate for a small, close group.
Focus on Your Group's Interests
Booking a private airboat tour means you can focus on your personal interests. Whether you're into birdwatching or love looking at unique plant life, one of our private tours of the Everglades will allow you to get the most out of your experience. Your guides know the area well and can tailor the knowledge they share and the course of the tour depending on what you would like to see the most.
Focus on Conservation
For those who come to the Everglades wanting to learn more about conservation efforts, our guides are passionate about the preservation of this unique ecosystem. Not everyone may be interested in this aspect of the tour, so booking a semi-private tour may mean the focus leans on other aspects of the Everglades. Plus. this is a great way to round out a family vacation by teaching your kids about the impact humans have on wildlife and the environment.
Make it a Sunset Everglades Tour
Our seasonal sunset tours, offered November through April, are only offered as private tours. If you've never experienced a sunset on the Miami Everglades, this is a must see on your Miami vacation. Over 1.5-2 hours, you'll get to cruise through the Everglades, view wildlife and plant life, then watch the sun go down over the River of Grass. Make it a happy hour by bringing snacks and drinks to enjoy along the way and find a beautiful backdrop for your anniversary or birthday celebration — or even proposal!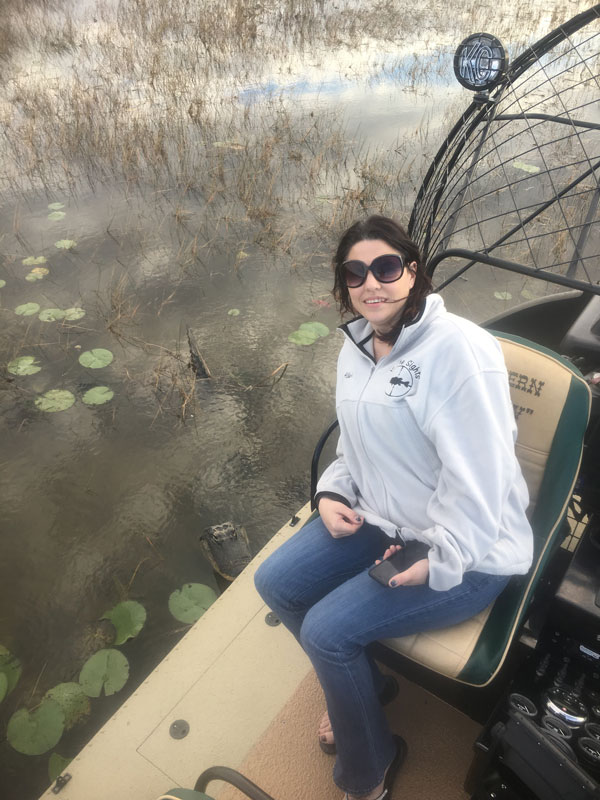 Book an Experience You Can't Get Anywhere Else
---
Each of our tours, whether private or semi-private, offers a unique trip around the Miami Everglades for up to seven people. You're bound to get a fun and unique experience either way, but booking a private airboat tour with Miami Everglades Connection allows you to truly make the experience your own by catering to your own event and interests.
Have you taken a tour with us? Tell us how it went!
BOOK YOUR MIAMI EVERGLADES AIRBOAT TOURS